Please support the site visiting one of our advertisers. Thanks, Happy Travelling!
Danish cuisine is a happy mix of tradition and innovation, combined with great care for the freshness and quality of raw materials. One of the basic dishes is the smørrebrød, slices of rye bread garnished with salami, cheese, fish, vegetables, etc; in specialized restaurants, numerous and appetizing variants can be chosen.
In the different regions of Denmark, the dishes of the rural or marine tradition survive, such as the Fionia omelet; the dried and smoked pork sausage from southern Jutland; the eel roll typical of the Lim Fjord area. Famous in Skagen, the preparation of fish (usually sole or plaice) with accompanying cranberries, a side dish invented by the fishermen themselves, to make up for the lack of potatoes due to the sandy nature of the soil.
10 typical dishes not to miss in Denmark
Smørrebrød
Is an open-faced sandwich consisting of buttered rye bread that is topped with numerous ingredients, such as cold cuts of meat, cheeses, spreads, meatballs, caviar, and typically accompanied by vegetables, herbs, and salads.
Æggekage
An egg-based dish consisting of a mixture of lightly beaten eggs, milk, and flour, which is poured in a skillet and topped with various condiments.
Stegt Flæsk
Thick and crispy fried, grilled, or oven-roasted pork belly, traditionally served alongside boiled potatoes and a flavorful parsley sauce.
Frikadeller
Danish meatballs that are usually made with ground pork typically served with boiled potatoes and traditional Danish brown sauce on the side.
Gammeldags Kylling
Chicken slowly braised in a broth, usually alongside onions, parsley, and peppercorns.
Fiskefrikadeller
Pan-fried fish patties made with a creamy mixture of ground white fish fillets, eggs, milk, onions, and various spices and fresh herbs.
Hakkebøf
A pan-fried, crispy hamburger patty made of minced beef,  served alongside caramelized onions and boiled potatoes
Gule Ærter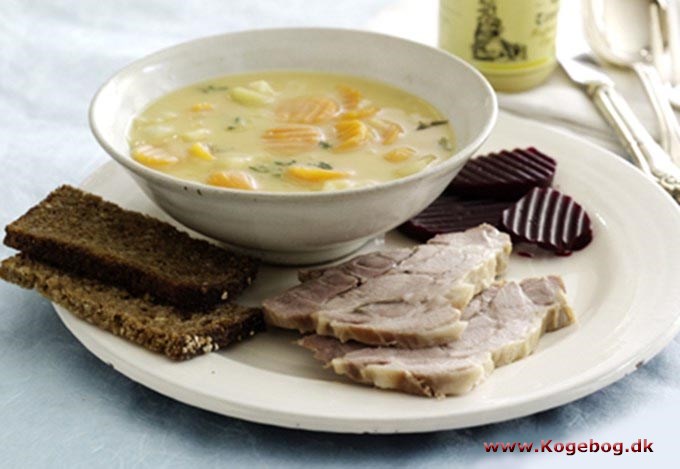 A soup made of green or yellow split peas cooked together with various vegetables and seasonings.
Øllebrød
A traditional Danish rye bread porridge consisting of a mixture of stale rye bread soaked in water, milk, or traditional Danish beer, which is later cooked until it achieves a thick, homogenous texture.
Æblekage
A sort of crumble consisting of a creamy, cinnamon-spiced apple sauce that is layered between crispy breadcrumbs or crumbled cookies.
Danish Pastry
A crispy sweet treat made with laminated dough, where the dough is repeatedly covered with butter and folded over itself and shaped into different forms and filled with flavorful, creamy fillings.
Please support the site visiting one of our advertisers. Thanks, Happy Travelling!