Please support the site visiting one of our advertisers. Thanks, Happy Travelling!
Romanian national cuisine is part of the Balkan tradition. The products of the earth are cooked in a simple way and do not pay particular attention to the presentation of the dishes, which therefore maintain a rather rustic and peasant appearance.
Very tasty and much lighter than the Russian, Austro-Hungarian, and Turkish kitchens that influenced it, it loves spices and sweet and sour, perfectly interpreted in the delicious vegetable soup called Ciorbă.
The meat, which the Romanians like to grill on a wood fire, is also of excellent quality, whether it is pork, mutton, veal, or chicken. One of the popular specialties is the mămăliga, a corn pie that resembles our polenta, served accompanied by a sheep's cheese or a tochitură (chicken liver and pork meatballs). Very common, mititei are small roasted sausages, flavored with garlic and full of taste. On holidays, Romanians like to serve the plăcinta which is a savory pastry (with meat, cheese, and herbs) or sweet, Ottoman-inspired.
10 typical dishes not to miss in Romania
Mămăligă
Romanian nation dish, made of boiled cornmeal, often topped with butter, sour cream, or Cascavel cheese.
Sarmale
Cabbage leaves that are filled with a mixture of ground meat, rice, and various spices and cooked in a thin tomato-based broth, typically alongside sauerkraut and smoked meat.
Mititei
Grilled ground meat rolls made from a combination of lamb, pork, beef, and seasonings such as thyme, anise, black pepper, and garlic.
Bulz
Crispy, grilled, pan-fried, or baked polenta balls filled with a creamy stuffing made of a combination of butter and soft sheep's cheese known as brânză de burduf.
Borș
Soup made of fermented wheat or barley brans, with minced pork meatballs and vegetables.
Ciorbă
Sour soup consisting of a variety of vegetables and pork, chicken, beef, or fish.
Jumări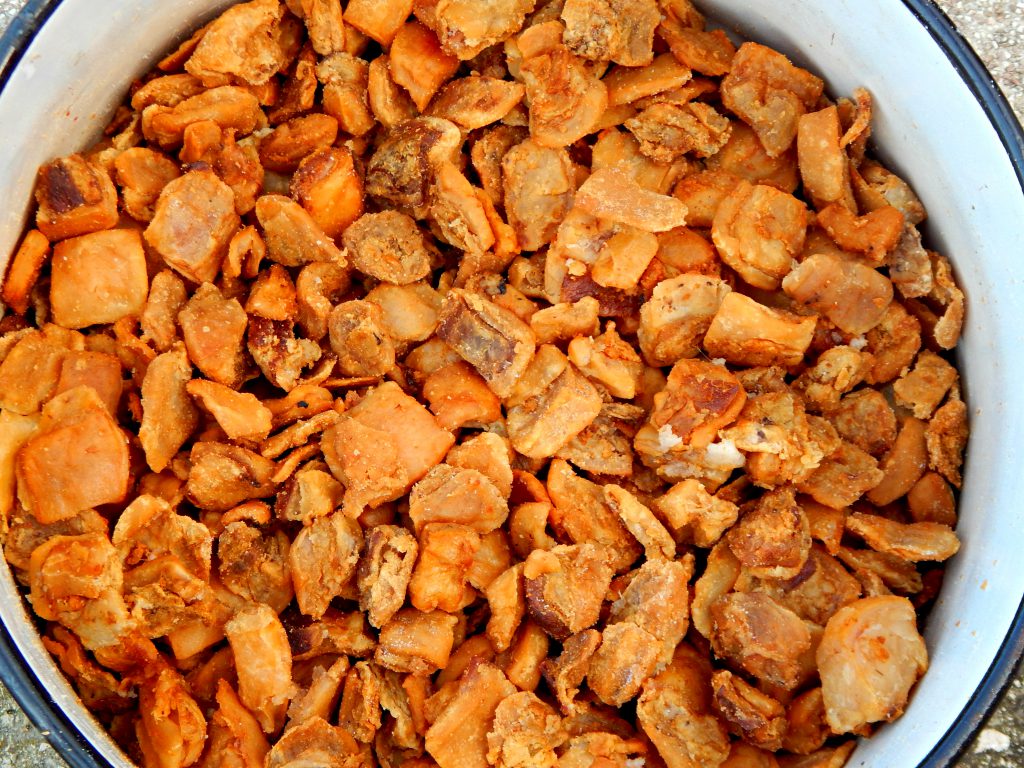 Pork cracklings that are made by frying pieces of pork belly or pork rinds with fat and meat attached to them usually seasoned with salt or paprika.
Chiftele
Crispy, deep-fried meatballs made from minced pork or chicken, bread crumbs, and mashed potatoes, flavored abundantly with onions, garlic, lovage, and parsley leaves.
Plăcintă
Fried pastry or a thin cake consisting of flour, water, eggs, milk, yeast, and a pinch of salt. Usually enjoyed warm and stuffed with brinza cheese, sweet cheese, mashed potatoes, shredded cabbage, apples, jams, or sour cherries.
Cozonac
Sweet bread made with flour, sugar, milk, cocoa, eggs, nuts, and raisins.
Savarină
Dessert that is baked until golden brown, and then soaked in rum syrup and filled with sweet whipped cream and served chilled with tart jams or a sour cherry on top.
Tuicã
A plum brandy.
Please support the site visiting one of our advertisers. Thanks, Happy Travelling!